We have designed a heating system that we can fit into one of our Full outboard covers. These were originally developed for military use in the Arctic (-60 degrees!) but we have a version for less aggressive climate protection.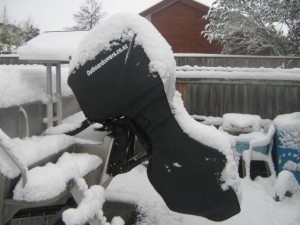 our heated covers are made to order and to your specific requirements. The heating system can be regulated to maintain a designated temperature and have thermal cut outs to protect from over heating.
We used a silicone heat pad that can be built to run on most voltages. We would not recommend using over 110V for safety reasons. If operating in extreme cold (less than -15 degrees) we can also supply Arctic rated cable and plugs.
Heated covers are supplied without any electrical connections (plugs). Plugs and transformers will have to be sourced locally and in accordance with safety regulations.
Click on any image below for more information.
We love the heated covers! They assure operational readiness and peace of mind when the temps drop. Super durable, easy to use, perfect fit, and looking great!
I am happy to tell you all of the covers performed exceptionally well throughout the episodes of subfreezing temperatures. The wind chill factor dropped the temperature to -20c. All interior ambient engine air temperatures were measured from 2-3c. Well done sir.
I am going to recommend immediate accession of the covers for permanent inventory. I will be requesting additional covers in the July-August time frame. I look forward to working with you again James. Thank you for enabling this success.
Huzzah!!
Respectfully,
Covers Photo Gallery
Gallery of customers covers
Keep it covered… Keep it protected