Combo Set
We offer this at a discount as we believe that this offers the best protection you can get for your outboard. We can also maximise fabric and construction time efficiency when making the covers as a set.
With over 100,000 in use and customers from the Arctic to Australia and USA to UK, you can be assured your motor will be protected by the best product on the market.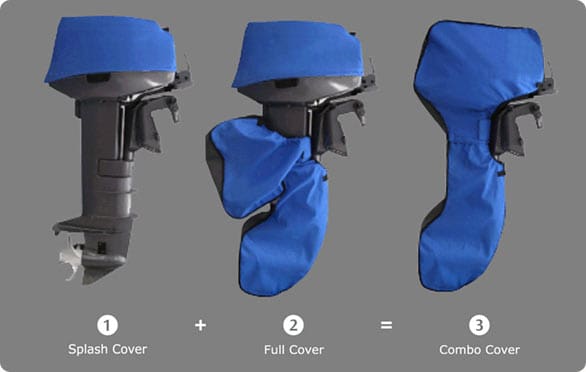 Why You Need One
Full Covers are designed to remain on the engine during storage and towing, Splash® covers protect the cowling when the motor is in use on the water. Both will protect from:
UV Fading
Accidental knocks and scratches
Bird Droppings
Salt Corrosion
Fishing Lure Damage
Tow Rope Damage
In addition to this you can remove the leg section of the Full cover and use the top as a Mooring cover.
FACT
An OCA Splash® cover is, on average, less than 1% of the cost of a new motor cowling & maintaining your motor in top condition will greatly enhance the resale value.