Additional Zip Protection
We can add an extra zip protector to your full leg zip if you tow off road or in dusty conditions. What we do is the leading edge of the zip is facing the same way that stones and rocks may accidently hit the zip and "could" take out a tooth in the zip. So if you are planning a trip over dirt/rocky roads we would suggest this is a great option.
The leg section of our Full covers have a zip that runs up the front of the leg (closest to the boat). 90% of the time these zip are safe from stones and rocks being flicked up by either the boat's trailer or the towing vehicle.
However,  if you do a lot of towing on dirt roads or live in a remote location and have a long distance to tow we would recommend that you get our zip protector as an option.
This is a cover showing where the zip protector goes. We will make this the same colour as the cover.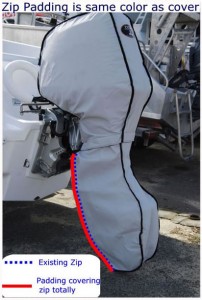 The gallery on the right -> show images of the other optional extras. Click any image to enlarge.
Covers Photo Gallery
Gallery of customers covers
Keep it covered… Keep it protected