Custom Cover Printing
We can custom print your cover in either Black OR White or Full Color. Below are some examples but we can print whatever you want (as long as it does not infringe any copyright laws). Use the tabs below for further information and examples.
Click any image to enlarge and see more.
Manufacturer branding is available in some regions and is dependent on the local agreements. Please see the individual 'Brands' page for full details.
Unfortunately, we can only supply branded covers as per manufacturers guidelines. We are not able to use any name or part of their logo individually it is all or nothing!
Outboard Covers is proud to offer our ©Copyrighted & specially designed range of fish to print on our covers. We have had these images designed for our covers and as they are under copyright cannot be used elsewhere. The logo ©Copyrighted stamp on the fish below will be removed on your cover.
Your boat name/wording, if required, will appear in line with the tail left to right and two words will be over split lines.
Click any image to enlarge and see more.
We will need you to supply the following with your order if printing is required:-
Black OR White
(Block printing black or white no shading or dual colors)

Text to be printed
Font required unless our standard (TW Cen MT Condensed with 10 degree slant) is required. Please note, if no font is specified we will use our standard one.
We will print Black OR White on each cover color as detailed below unless specified otherwise.
(e.g. Navy cover will have white print)

Color
High resolution image of what is to be printed – this needs to be 300+dpi
Image to be printed in EPS, Jpeg, Bmp or PDF format
NOTE:- We cannot use images downloaded from the internet for two reasons; firstly they are not high enough resolution and secondly there may be a copyright issue. Also you cannot simply take a photo of your boat name & expect us to know what font it is, you will need to find out from the boat name designer.
Below are some of the available fonts we have. We actually have 85,000 fonts but thought we would show you some of the more popular ones. If you have a specific font please tell us and we can use that.
You can see print examples in the gallery pages HERE->
If you select our standard font (Tw Cent MT Condensed Italic) it will look like this:-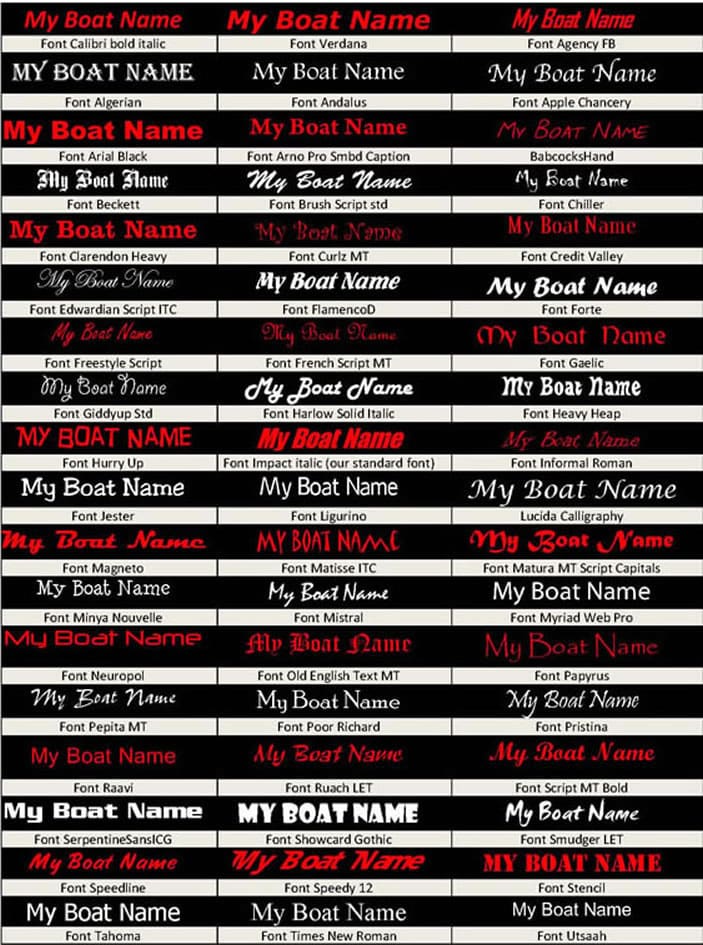 We can also print your motor HP on the rear of your cover, you can select this option in the print section of the order pages.
If you need any help please contact us by using our secure LiveChat on the left of the page or use the Print Question form to the right.
Quote & Order
Secure quote/ order pages
Keep it covered… Keep it protected