Customer Testimonials
Below is a small selection of the feedback we get from our customers all over the World. You can also see more up to date comments on our Facebook pages.
Gday,, not sure where to send these pics of one of your outstanding outboard covers. I purchased the cover in 2002 and it has only been off the cowling a few times for a bit of a clean.
Basically I didn't look after the cover very well but as you can see 17 years down the track the cowling still looks like new. I have recently decided to upgrade the outboard and once iv finalised a new Yamaha first thing on my accessories list is one of your covers. Thanks for a great product.
No one believes how old the outboard is when I tell them lol. But when to see the lower part below the crowning you can see 17 years of use. Great product and have recommended it to lots of people. . New outboard ordered so I'll get To ordering the new splash cover off you some time over the weekend. Thanks 👍🏻. Have a great weekend.
Cover and splash cover arrived today and WOW!!!! are they nice. You can tell just by the feel it's quality, and the workmanship makes it all come together. I can't tell you how refreshing it is to deal with someone who understands and pays as much attention to detail as I do. The price seemed a tad high at first, but after seeing them, the price was a steal. There is a slogan that one of our mechanical contractors has on their trucks that I have always liked and it applies here……
"Quality is remembered long after price is forgotten."
Please express my thanks to Leanne for getting all my changes right the first time. Everything came out exactly as I envisioned. Can't wait to get them installed when we pick up the boat next week. I will send you a photo or 12 when we get back. Thank you both for your frequent communication during the process, your professionalism and putting out such a top quality motor cover. My dealings with OCA has been my best online experience to date. Thank You Again!!!
I purchased three covers for my 275 Verados from you.  The Mercury Verados have a bad reputation for engine spray that covers the inside from ordinary running.  Your covers have stopped all spray.  I run in Florida in hot conditions and the covers have reduced my running temperature by two degrees. I also fish a lot of tournaments and I am spreading the word about the covers.   I have not seen you guys marketing this info but you should.  I am posting the good news on a National website for all Verado users and on the tournament trail.  My good fishing friend is Roland Martin and Mercury  is one of his sponsors.  Roland is looking at the covers for his offshore boat that BASS PRO SHOPS will be using on his T.V. show.  Keep up the good work.
Firstly, I would like to thank you and commend you for your product and service. The whole process was very simply, quick and efficient. I also think it was very reasonably priced since I was was quoted "about $300" to have one made locally.
I think the cover looks good on the back of my boat and pretty much matches my sail covers. It certainly looks much better than my old one, don't you think.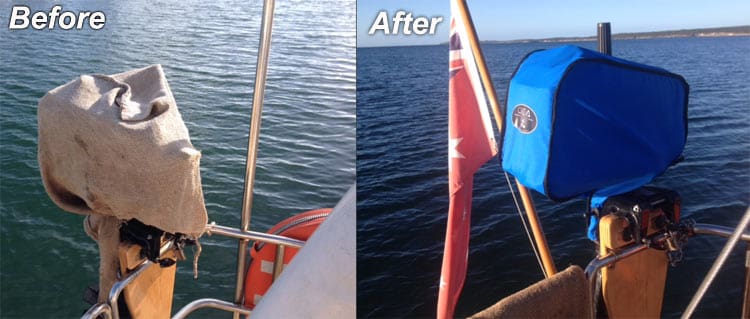 Just a quick note to let you know the cover fits my Suzuki 90 perfectly. The printing I asked for (boat name) on the cover is exactly the same font and colour as is on the boat – excellent match!! I have a week long fishing trip coming up in early July and when the boys see my cover, I expect there'll be more orders coming your way. Thanks again. Beautiful job…….
Cheers
Hi Geoff.
Got home this arvo to find my new Combo covers on the doorstep. I have just fitted them and, like I expected, fitted like a glove.
As you are aware, this is the 2nd Combo set have bought from you and the quality is superb. It is only due to replacing my motor that I needed a new set.
The old covers are still in great condition after 6 years!!! I just need to find someone with a 115hp Tohatsu now that doesnt have a cover from OCA.
As promised, as soon as I get out on the water, I will take a photo and send it through! Thanks again for your great product,
Kind Regards
Completely brilliant cover! With the sort of abuse we give our outboard (we use it for watersports, so the kids regularly clunk the engine cover with wakeboards and skis) one season later it should look like it's from a 3rd world country – but instead it genuinely looks as good as new, still fits like the proverbial glove – and despite months of Med sunshine the colour hasn't faded one bit – can't recommend it highly enough – if only you guys did covers for the Mothership…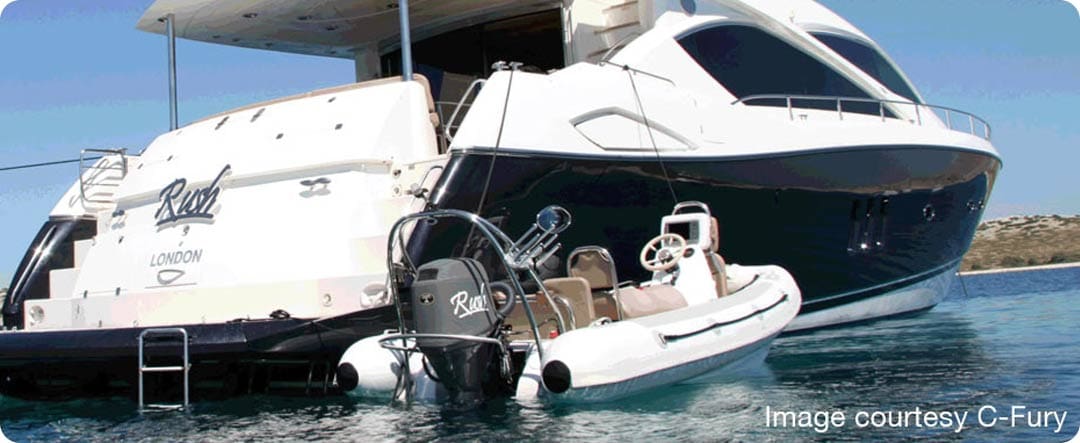 "I am in receipt of my outboard engine cover, and I am really impressed, not just in the quality of the item, and its "look" which I have to say is amazing, but mega impressed at the service. I deal with many companies all over the world, and I can honestly say I have never experienced such a high level of customer service, by any company at any time which could match the speed and delivery as the service I have had from OUTBOARD COVERS UK. I will be recommending you to every one at my marina in Wales, and indeed I intend to make sure that any one who is interested in buying a cover for their outboard takes a look at mine, and see for themselves just how lovely the covers are. You guys at outboard covers uk are seriously impressive people with incredible determination to serve well.
Its incredible to think that I place an order and within a matter of a few days I receive my order, all the way from Australia I might add, all the flipping way from Perth, we are not talking around the blooming corner. Meanwhile back in the UK, you cant get a first class letter quicker. This is a terrific quality product from an equally terrific company, if you the reader, want to look after your outboard, then take note, if you care about its looks, and you want to protect your investment, invest in a cover, not just any cover but one from OUTBOARD COVERS UK, thank you James for excellent service and a fabulous product. makes my boat look really good….
Keep it covered… Keep it protected