Heated Outboard Covers
If you need to keep your motor warm we can make a custom heated cover to fit it. Our heated outboard covers are used in the harshest of environments by military and commercial customers.
If you have another item that needs a heated cover please contact us we have extensive knowledge in this area and would be happy to discuss your requirements.
We have designed a heating system that we can fit into one of our Full outboard covers. These were originally developed for military use in the Arctic (-60 degrees!) but we have a version for less aggressive climate protection.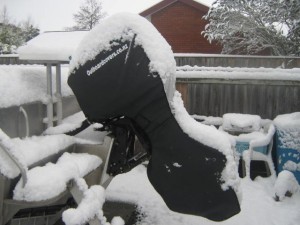 our heated covers are made to order and to your specific requirements. The heating system can be regulated to maintain a designated temperature and have thermal cut outs to protect from over heating.
We used a silicone heat pad that can be built to run on most voltages. We would not recommend using over 110V for safety reasons. If operating in extreme cold (less than -15 degrees) we can also supply Arctic rated cable and plugs.
Heated covers are supplied without any electrical connections (plugs). Plugs and transformers will have to be sourced locally and in accordance with safety regulations.
Below are 2 examples of heated covers we have supplied for military use.
Image 1 was a project for the US military who specified a cover to keep the motors operational in temperatures down to -20c. These motors remain in the water and operationally ready all year round.
Image 2 is one of the covers we designed to go to the Arctic with Special Forces. These were designed to protect the engines on fast deployment boats stored on the bow of the ship and were required to keep the motors from freezing in temperatures as low as -60c. They were also frequently submerged during the trip.
I am happy to tell you all of the covers performed exceptionally well throughout the episodes of subfreezing temperatures. The wind chill factor dropped the temperature to -20c. All interior ambient engine air temperatures were measured from 2-3c. Well done sir.
I am going to recommend immediate accession of the covers for permanent inventory. I will be requesting additional covers in the July-August time frame. I look forward to working with you again James. Thank you for enabling this success.
Huzzah!!
Respectfully,
All our heated covers are made to customer specific requirements as temperatures, voltages and environmental conditions vary. Please complete the form below and we will contact you with draft pricing or to get further information.
Keep it covered… Keep it protected