Gift Vouchers
You can now buy an OCA gift voucher. These can be redeemed against any products available on-line. The voucher will be e-mailed to you once your purchase has been processed and are valid for 12 months.
Even if you don't spend the total on one order the balance will remain current for 12 months from the voucher purchase date. So if you buy a $500.00 voucher on the 1st July 2015 then the recipient only spends $400.00 on the 23rd August 2015 the balance will remain until the vouchers expiry date which in this case would be the 1st July 2016 (one year on).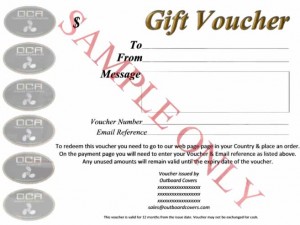 There is no gallery selected or the gallery was deleted.
Keep it covered… Keep it protected